Tesla Model Y: Choosing a Child Safety Seat
All children age 12 and under should ride in the second and third row seats. Always use a child safety seat suitable for a young child's age and weight. The following table is based on child safety seat recommendations determined by the National Highway Traffic Safety Administration (NHTSA) in the United States.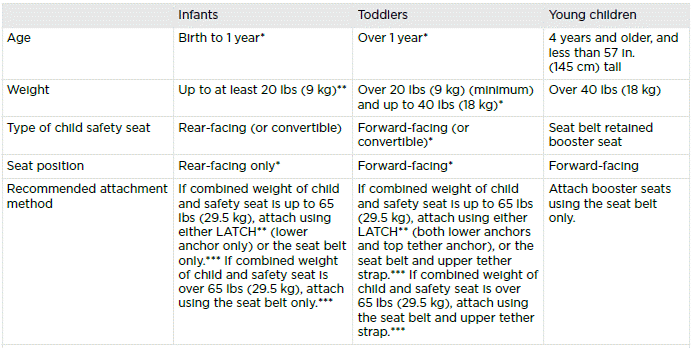 * Many child safety seats currently available allow children to ride rear-facing using the child safety seat's integrated 5-point harness for a longer period of time BASED UPON SPECIFIC HEIGHT AND WEIGHT LIMITS. Keep your child in a rear-facing seat for as long as possible. CHECK THE CHILD SAFETY SEAT MANUFACTURER'S INSTRUCTIONS AND CAREFULLY FOLLOW ALL INSTRUCTIONS.
** LATCH ("Lower Anchors and Tethers for Children") and ISOFIX are international standards for attachment points for child safety seats in passenger cars that enable compliant child safety seats to be quickly and safely secured. The system has other regional names including LUAS ("Lower Universal Anchorage System") or Canfix in Canada. It has also been called the "Universal Child Safety Seat System" or UCSSS.
*** Subject to instructions provided by the child safety seat manufacturer.
WARNING: Laws that govern how and where children should be carried when traveling in a vehicle are subject to change. It is the driver's responsibility to keep up to date on, and comply with, all current regulations in the region(s) where Model Y is driven. To check the child passenger safety laws for states in the U.S.
WARNING: Do not use LATCH anchors with child safety seats or booster seats that have an integral safety belt where the combined weight of the child plus the child safety seat exceeds 65 lbs (29.5 kg).
WARNING: Do not use Easy Entry (as described in Driver Profiles) to automatically move the driver's seat to the full rearward position if a child safety seat is installed in the second row located behind the driver's seat. With reduced clearance, the movement of the seat may impact a child's legs, cause injury, or dislodge the seat.
Seating Larger Children
If a child is too large to fit into a child safety seat, but too small to safely fit into the standard seat belts, use a booster seat appropriate for the child's age and size. Carefully follow the manufacturer's instructions to secure the booster seat.
READ NEXT:
There are two general methods used to install child safety seats: Seat belt retained - these seats are secured using the vehicle's seat belts. LATCH retained - these seats attach to anchor bars
Lower LATCH anchors are provided in the second row outboard seats. The anchors are located between the seat's back rest and rear cushion. The exact location of each anchor is identified by a child
If an upper tether strap is provided, attach its hook to the anchor point located on the back of the second and third row (if equipped) seats. NOTE: The location of anchor points may not be readily
SEE MORE:
NOTE: Depending on market region, vehicle configuration, options purchased, and software version, your vehicle may not be equipped with all features listed below, or a feature may not operate exactly as described. These Autopilot convenience features are designed to reduce driver workload: Tr
The airbag indicator on the touchscreen remains lit if the airbag system is malfunctioning. The only time this indicator should light up is briefly when Model Y first powers up, in which case it turns off within a few seconds. If it remains lit, contact Tesla immediately and do not drive. Ai