Tesla Model Y: Pull Onto Flatbed Truck From Front
NOTE: If Model Y has no low voltage power, you need an external low voltage power supply to open the hood or use the touchscreen.
CAUTION: To avoid damage, only pull the vehicle onto a flatbed truck using a properly-installed tow eye. Using the chassis, frame, or suspension components to pull the vehicle can result in damage.
1. Locate the tow eye. The tow eye is located in the front trunk.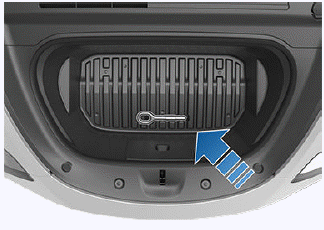 2. To remove the tow eye cover, insert a small, flat screwdriver into the top and bottom slots, release the snaps and pull the cover towards you.
NOTE: The front tow eye cover is connected to the vehicle's black negative (-) terminal.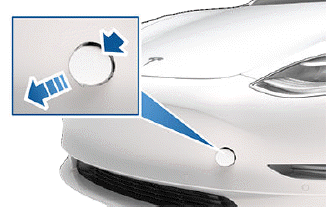 3. Fully insert the tow eye into the opening, then turn it counter-clockwise until securely fastened.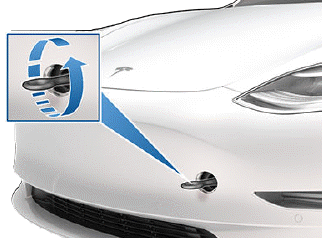 4. Attach the winch cable to the tow eye.
CAUTION: Before pulling, make sure the tow eye is securely tightened.
5. Activate Transport Mode.
6. Pull Model Y slowly onto the flatbed truck.
READ NEXT:
NOTE: If Model Y has no low voltage power, you need an external low voltage power supply to open the hood or use the touchscreen. CAUTION: To avoid damage, only pull the vehicle onto a flatbed truck
If jump starting Model Y using another vehicle, refer to that vehicle manufacturer's instructions. The following instructions assume you are using an external low voltage power supply (such as a por
SEE MORE:
Press down on a switch to lower the associated window. Window switches operate at two levels: To lower a window fully, press the switch all the way down and immediately release. To lower a window partially, press the switch gently and release when the window is where you want it. Similarl
In severe winter conditions, applying WD-40 to door handle pivot pins can help prevent ice buildup that might immobilize the handle. Consider applying WD-40 to the door handle pivot pins if you are expecting freezing rain, heavy snow, or icy conditions. Reapply as needed. CAUTION: Read and observ