Tesla Model Y: Uniform Tire Quality Grading
The following information relates to the tire grading system developed by the National Highway Traffic Safety Administration (NHTSA), which grades tires by tread wear, traction and temperature performance. Tires that have deep tread, and winter tires, are exempt from these marking requirements.
Where applicable, quality grades are found on the tire's sidewall between the tread shoulder and maximum section width. For example:
TREADWEAR 180
TRACTION AA
TEMPERATURE A
The quality grades are described next.
NOTE: In addition to the marking requirements, passenger car tires must conform to Federal Safety Requirements.
Treadwear
The treadwear grade is a comparative rating based on the wear rate of the tire when tested under controlled conditions on a specified government test course.
For example, a tire graded 150 wears one and a half times better on a government test course than a tire graded 100. The relative performance of tires depends on the actual conditions of their use, however, and can depart significantly from the norm due to variations in driving habits, service practices, road characteristics, and climate.
Traction
The traction grades, from highest to lowest, are: AA, A, B, and C. These grades represent a tire's ability to stop on wet pavement as measured under controlled conditions on test surfaces of asphalt and concrete. A tire marked C might have poor traction performance.
WARNING: Defective tires are dangerous. Do not drive if a tire is damaged, excessively worn, or is inflated to an incorrect pressure. The safety of the vehicle and occupants can be adversely affected. Check tires regularly for wear and to ensure there are no cuts, bulges or exposure of the ply/cord structure.
WARNING: The traction grade assigned to the tire is based on straight-ahead braking tests, and does not include: acceleration, cornering, hydroplaning or peak traction characteristics.
Temperature
The temperature grades are A (the highest), B, and C, representing the tire's resistance to the generation of heat and its ability to dissipate heat when tested under controlled conditions on a specified indoor laboratory test wheel. Sustained high temperature can cause the tire to degenerate and reduce tire life, and excessive temperature can lead to sudden tire failure.
The grade C corresponds to the minimum level of performance that all passenger car tires must meet under the Federal Motor Safety Standard No. 109. Grades B and A represent levels of performance on the laboratory test wheel that exceed the minimum requirements.
WARNING: A tire's temperature grade is established for a tire that is properly inflated and not overloaded. Excessive speed, under-inflation, or excessive loading, either separately or in combination, can cause heat buildup and possible tire failure.
Tire and Loading Glossaries
General Wheel and Tire Terms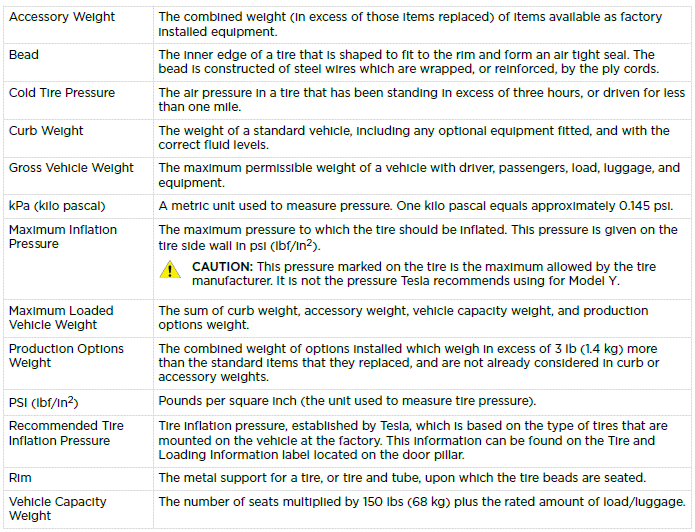 Load Carrying Definitions


Pneumatic Radial Tire Definitions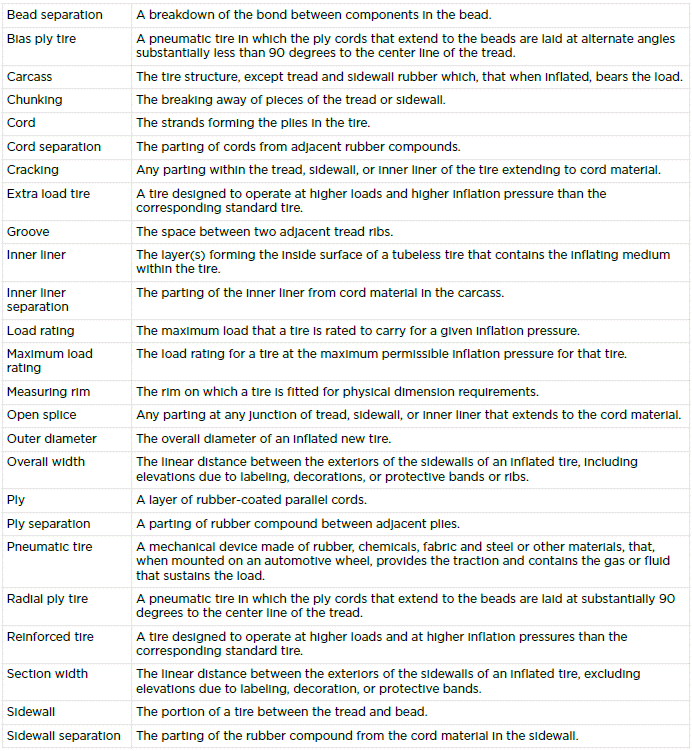 READ NEXT:
Tesla Roadside Assistance is available to you 24 hours a day, 365 days a year, for the duration of your warranty period. Tesla Roadside Assistance is also available to speak with roadside service p
SEE MORE:
To set up the Tesla mobile app to communicate with your Model Y: 1. Download the Tesla mobile app to your phone. 2. Log in to the Tesla mobile app by entering your Tesla account credentials. 3. Enable mobile access to your Model Y by touching Controls > Safety > Mobile Access (see Control
Laws require tire manufacturers to place standardized information on the sidewall of all tires. This information identifies and describes the fundamental characteristics of the tire. It also provides the tire identification number (TIN) for certification of safety standards, and in case of a rec