Tesla Model Y: Correct Driving Position
The seat, head support, seat belt and airbags work together to maximize your safety. Using these correctly ensures greater protection.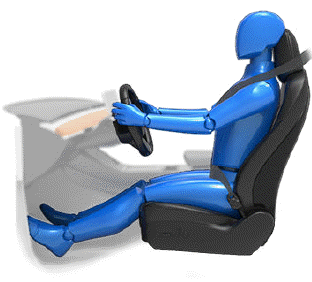 Position the seat so you can wear the seat belt correctly, while being as far away from the front airbag as possible:
1. Sit upright with both feet on the floor and the seat back reclined no more than 30 degrees.
2. Make sure you can easily reach the pedals and that your arms are slightly bent when holding the steering wheel. Your chest should be at least 10 inches (25 cm) from the center of the airbag cover.
3. Place the shoulder section of the seat belt mid-way between your neck and your shoulder. Fit the lap section of the belt tightly across your hips, not across your stomach.
Model Y seats include integrated head supports that cannot be adjusted or removed.
READ NEXT:
Move seat forward/backward and adjust the seat's height and tilt angle up/down. Adjust backrest. Adjust lumbar support. WARNING: Before adjusting a front seat, check that the area around the
Model Y provides seating for up to three passengers in the second row. The seat back is split 60/40 so adjusting the left seat back moves the seat backs for both the left and center seating position
Lift the bar located beneath each outboard seating position to unlock and move the second row seats forward or rearward. The bench seats have a 60/40 split. Therefore, the bar on the left side moves
SEE MORE:
The Security tab allows you to do the following: Pair your phone to the vehicle Enable or disable Sentry Mode Enable or disable Valet Mode Enable or disable Speed Limit Mode and receive notifications when the vehicle's driving speed is within approximately 3 mph (5 km/h) of your selected
Each tire should be checked monthly when cold and inflated to the recommended pressures that are printed on the Tire and Loading Information label located on the driver's door pillar (see Maintaining Tire Pressures). If your vehicle has tires of a different size than the size indicated on the v