Tesla Model Y: Removing/Installing a Head Support
All head supports in the second and third row (if equipped) seating positions can be removed. To remove a head support:
1. Fully raise the head support by pulling it upward.
2. Press and hold the button located at the base of one of the posts.
3. Insert a short, flat object (such as a small flat-head screwdriver) into the opening in the base of the opposite post and pull the head support upward.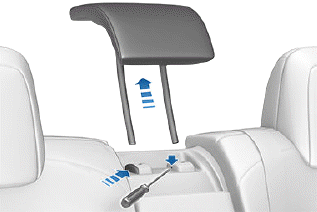 To re-install the head support:
1. With the front of the head support facing forward, insert both posts into the corresponding holes on the seat back.
2. Press downward on the head support until it clicks into place.
3. Pull upward on the head support to ensure that it is secure.
WARNING: Ensure that the head support is correctly installed before seating an occupant. Failure to do so increases the risk of injury or death if a collision occurs.
Seat Heaters
The front and second row seats contain heating pads that operate at three levels from 3 (highest) to 1 (lowest). To operate the seat heaters.
WARNING: To avoid burns resulting from prolonged use, individuals who have peripheral neuropathy, or whose capacity to feel pain is limited because of diabetes, age, neurological injury, or some other condition, should exercise caution when using the climate control system and seat heaters.
Seat Covers
WARNING: Do not use seat covers in Model Y. Doing so could restrict deployment of the seat-mounted side air bags if a collision occurs. Also, if the vehicle is equipped with an occupant detection system that is used to determine the status of the passenger front airbag, seat covers may interfere with this system.
READ NEXT:
Using seat belts and child safety seats is the most effective way to protect occupants if a collision occurs. Therefore, wearing a seat belt is required by law in most jurisdictions. Both the driv
1. Ensure correct positioning of the seat (see Correct Driving Position). 2. Draw the belt out smoothly, ensuring the belt lays flat across the pelvis, chest and mid-point of your collar bone, bet
SEE MORE:
The turn signals flash three times or continuously, depending on how far up or down you move the stalk. Lightly push the turn signal stalk up or down for a three-flash sequence. For a continuous signal, push the stalk fully up or down. The turn signals stop operating when canceled by the steerin
To check fluid levels, remove the maintenance panel: 1. Open the hood. 2. Pull the maintenance panel upward to release the clips that hold it in place. 3. If checking the Battery coolant, remove the cabin intake trim panel by pulling it upwards to release the clips that hold it in place. CAUTI