Tesla Model Y: Overview
The touchscreen displays the status of Model Y at all times. What you see depends on whether the vehicle is:
Parked (shown below)
Driving
Charging
When Model Y is parked, the status area shows the drive mode, estimated range, and an overhead view of the car with buttons you can touch to open the trunks and charge port door. When you press the brake, Model Y powers up and indicator lights flash briefly. briefly. Unless an indicator light applies to the current situation (for example, a seat belt is not fastened), it should turn off. If an indicator light fails to turn on or off, contact Tesla.
NOTE: The following image is provided for demonstration purposes only. Depending on vehicle options, software version, and market region, the information displayed may be slightly different.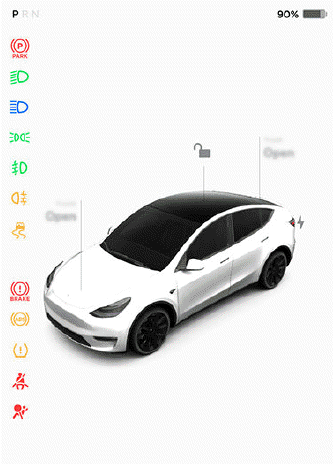 READ NEXT:
Indicator lights display along the top of the instrument panel to show status and alert you of specific vehicle conditions. A brake system fault is detected or the brake fluid level is low. Cont
When Model Y is driving (or ready to drive), the touchscreen shows your current driving status and a real-time visualization of the road as detected by the Autopilot components (see About Autopilot
Wipers To perform a single wipe with the windshield wipers, press and immediately release the button on the end of the turn signal stalk. You can access the wiper settings from the main Controls scr
SEE MORE:
Appearance: Customize the display to be Dark or Light. When set to Auto, the brightness changes automatically based on ambient lighting conditions. Brightness: Drag the slider to manually control the brightness level. If Display Mode is set to Auto, the touchscreen further adjusts based o
Vehicle Identification Number You can find the VIN at the following locations: Touch Controls > Software. Stamped on a plate located at the top of the dashboard. Can be seen by looking through the windshield on the driver's side of the vehicle. Printed on the Vehicle Certification lab