Tesla Model Y: Accessing the Cargo Area
To access the cargo area inside the rear trunk, pull up the strap at the rear of the cargo cover. You can then fold the cargo cover forward or remove it from Model Y.
Secure all cargo before moving Model Y, and place heavy cargo in the lower trunk compartment.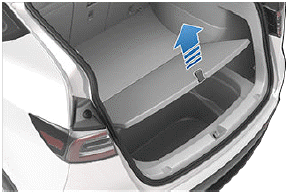 The cargo weight should be distributed as evenly as possible between the front and rear trunks.
CAUTION: Never load more than 176 lbs (80 kg) in the lower tub compartment of the rear trunk or more than 397 lbs (180 kg) on the upper floor. Doing so can cause damage.
WARNING: When loading cargo, always consider the vehicle's Gross Vehicle Weight Rating (GVWR) (see Vehicle Loading). The GVWR is the maximum allowable total mass of the vehicle including all passengers, fluids, and cargo.
READ NEXT:
To open the front trunk, ensure Model Y is in Park, and then do one of the following before pulling the hood open: Touch the associated Open icon on the touchscreen. Double-click the front trunk
The Model Y hood is not heavy enough to latch under its own weight and applying pressure on the front edge or center of the hood can cause damage. To properly close the hood: 1. Lower the hood unti
SEE MORE:
NOTE: Depending on market region, vehicle configuration, options purchased, and software version, your vehicle may not be equipped with Autosteer, or the feature may not operate exactly as described. NOTE: Autosteer is a BETA feature. Autosteer builds upon Traffic-Aware Cruise Control (see Traffi
Model Y tires are asymmetric and must be mounted on the wheel with the correct sidewall facing outward. The sidewall of the tire is marked with the word OUTSIDE. When new tires are installed, make sure that the tires are correctly mounted on the wheels. WARNING: Road holding is seriously impai