Tesla Model Y: Opening
To open the front trunk, ensure Model Y is in Park, and then do one of the following before pulling the hood open:
Touch the associated Open icon on the touchscreen.
Double-click the front trunk button on the key fob.
Touch the front trunk button in the mobile app.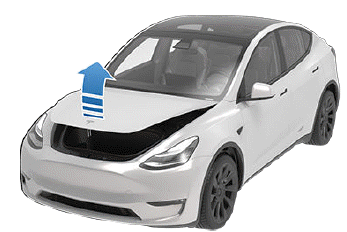 When a door or trunk/liftgate is open, the touchscreen displays the Door Open indicator light. The image of your Model Y on the touchscreen also displays the open front trunk.
WARNING: Before opening or closing the hood, it is important to check that the area around the hood is free of obstacles (people and objects). Failure to do so may result in damage or serious injury.
The cargo weight should be distributed as evenly as possible between the front and rear trunks.
CAUTION: Never load more than 110 lbs (50 kg) in the front trunk. Doing so can cause damage.
WARNING: When loading cargo, always consider the vehicle's Gross Vehicle Weight Rating (GVWR) (see Vehicle Loading). The GVWR is the maximum allowable total mass of the vehicle including all passengers, fluids, and cargo.
READ NEXT:
The Model Y hood is not heavy enough to latch under its own weight and applying pressure on the front edge or center of the hood can cause damage. To properly close the hood: 1. Lower the hood unti
An illuminated interior release button inside the front trunk allows a person locked inside to get out. Press the interior release button to open the front trunk, then push up on the hood. NOTE: T
SEE MORE:
Speed Limit Mode allows you to limit acceleration and limit the maximum driving speed to a chosen value between 50 and 120 mph (80 and 193 km/h). The first time you use this feature, you must create a 4-digit PIN that you must use to enable and disable Speed Limit Mode. When enabled and the dri
Collision Avoidance features cannot always detect all objects, vehicles, bikes, or pedestrians, and you may experience unnecessary, inaccurate, invalid, or missed warnings for many reasons, particularly if: The road has sharp curves. Visibility is poor (due to heavy rain, snow, fog, etc.). Br