Tesla Model Y: Folding Mirrors at Specific Locations
In addition to having mirrors fold automatically whenever you park Model Y, you can fold (and unfold) mirrors anytime your driving speed is less than 31 mph (50 km/h). This is useful for parking in tight spaces. To do so, touch Controls > Fold Mirrors.
When you fold mirrors, a Location Saved popup briefly displays below the Fold Mirrors control. When Location Saved is enabled, mirrors automatically fold whenever you approach the location, saving you from having to manually fold them each time you arrive at a frequently visited location (such as narrow garages, tight parking spaces, etc.). If you do not want the location saved, simply touch Location Saved to disable it. This popup toggles between Location Saved and Save Location to allow you to specify whether or not you want mirrors to automatically fold as you approach your current location.
NOTE: To save or unsave a location at which the mirrors fold, Model Y must be driving at a low speed (less than 3 mph (5 km/h) ) or stopped at the location you want your vehicle to remember.
CAUTION: Mirrors may not automatically fold if you return to a saved location driving faster than 3 mph (5 km/h)
NOTE: When you leave the saved location, mirrors remain folded until your driving speed reaches 31 mph (50 km/h), or until you touch Controls > Unfold Mirrors. When driving at or above this speed threshold, you can not fold mirrors.
NOTE: You can also override the automatic folding/ unfolding of mirrors at any time (for example, Model Y has no power) by pushing the mirror assembly away from you to unfold, or pulling it toward you to fold.
You can integrate auto-folding mirrors with HomeLink (see HomeLink Universal Transceiver). To do so, touch the HomeLink icon on the top of the Controls screen and enable Auto-Fold Mirrors when Nearby.
Rear View Mirror
The rear view mirror is adjusted manually. When in Drive or Neutral, the rear view mirror automatically dims in low lighting conditions based on the time of day (for example, when driving at night).
Vanity Mirrors
To expose and illuminate the vanity mirror, fold the sun visor downwards, then use the tab to lower the mirror cover. After closing the mirror cover, the light turns off.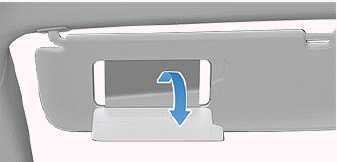 READ NEXT:
When you open a door to enter Model Y, the touchscreen powers on and you can operate all controls. To drive Model Y: Press the brake pedal - Model Y powers on and is ready to drive. Select a drive
When you finish driving, simply exit the vehicle. When you leave Model Y with your phone key and key fob, it powers off automatically, turning off the instrument panel and touchscreen. Model Y als
SEE MORE:
To display charging locations on the map, touch the map's search bar, then touch Charging. Charging locations are shown in a list (with the closest charging location at the top of the list) and represented by corresponding pins on the map. Touch a pin to display more information, navigate to it
Collision Avoidance features cannot always detect all objects, vehicles, bikes, or pedestrians, and you may experience unnecessary, inaccurate, invalid, or missed warnings for many reasons, particularly if: The road has sharp curves. Visibility is poor (due to heavy rain, snow, fog, etc.). Br