Tesla Model Y: Folding Third Row Seat Backs (7-seater only)
To fold a third row seat, first ensure that the head support is fully down as shown (see Head Supports). Then press the button located in the top corner of the seat back and fold the backrest downward.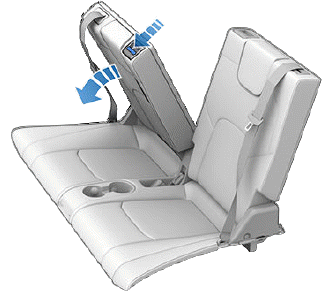 NOTE: To return the seat backs to the upright position, pull the seat back upward until it latches into place. Try pulling the backrest forward to confirm that it is securely latched in the upright position.
NOTE: Before folding the seat backs, remove any items from the seats and the footwell. To allow the backrests to fold completely flat, you may need to move the second row seats forward.
NOTE: Driving with the third row backrests folded forward may result in increased perceivable noise and/or vibration coming from the rear of the vehicle (trunk, suspension, etc.).
WARNING: Always ensure the seat backrests are locked in their upright position before travel. Failure to do so increases the risk of injury.
READ NEXT:
The front seats include integrated head supports that you can not adjust. The second row outboard seats include an adjustable head support that you can raise, lower, or remove. When either of these s
All head supports in the second and third row (if equipped) seating positions can be removed. To remove a head support: 1. Fully raise the head support by pulling it upward. 2. Press and hold the bu
SEE MORE:
Owner's Manual: View the onscreen Owner's Manual. A new version of the onscreen owner's manual is typically provided with every software update and therefore contains more recent information that those provided by Tesla elsewhere (for example, via the web). Car Wash Mode: Enable before using a
When snow and ice accumulate on your vehicle, moving parts, such as the door handles, windows, mirrors, and wipers can freeze in place. To achieve maximum range and performance, it is helpful to warm the cabin and Battery before you leave. There are several ways to do so: Touch Schedule, avai