Tesla Model Y: Climate Popup
Touch the temperature arrows on the bottom of the touchscreen to display a popup for easy access to some of the most common climate controls: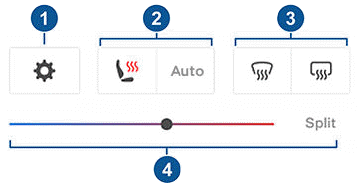 NOTE: For one-touch access to seat heaters and defrosters, you can add these controls to My Apps. See Customizing My Apps.
Touch to access the main climate controls screen.
Enable or disable heated or cooling seats.
Enable or disable the front or rear windshield defrosters.
Modify the cabin temperature by dragging along the slider. You can also enable temperature splitting which allows the driver and front passenger to customize their own climate preferences. The front passenger can touch the temperature icon on the bottom of the touchscreen or the main climate controls screen to adjust. Touch Split again to disable climate splitting.
READ NEXT:
The Keep Climate On, Dog, and Camp settings allow you to keep the climate control system running when in Park, even after you've left Model Y or choose to stay inside the vehicle. These settings ar
Model Y has a unique horizontal face-level vent that spans the width of the dashboard. Using the touchscreen, you can pinpoint exactly where you want to direct the air flowing from this vent when h
Model Y has one or more air filters to prevent pollen, industrial fallout, road dust and other particles from entering through the vents. NOTE: Cabin air filter(s) require periodic replacement. See
SEE MORE:
In addition to Automatic Emergency Braking, your vehicle may apply the brakes to prevent or mitigate a subsequent impact after an initial collision if airbag deployment is detected. The brakes may be applied regardless of driving speed. Obstacle-Aware Acceleration Obstacle-Aware Acceleration is
CAUTION: Do not wash in direct sunlight. CAUTION: Do not use windshield treatment fluids. Doing so can interfere with wiper friction and cause a chattering sound. CAUTION: Do not use hot water, detergents, or highly alkaline or caustic cleaning products, especially those containing hydroxide.