Tesla Model Y: Electrical Connections
Regulations require all trailers to be equipped with tail lights, brake lights, side marker lights, and turn signals. To provide power for trailer lighting, a built-in 7-pin wiring connector is provided near the hitch support's wiring plugs for most types of trailers. Plugging in trailer wiring into the Model Y electrical connector automatically engages Trailer Mode.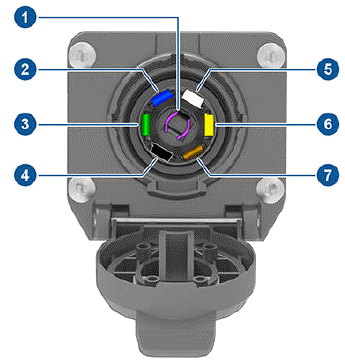 Reverse Lights
Brake Controller Output
Right Turn Signal and Brake Light
Low Voltage Power (if equipped)
Ground
Left Turn Signal and Brake Light
Tail Lamps
NOTE: It is the driver's responsibility to ensure that all electrical connections are working, and all trailer lights are operating before and during towing. Model Y does not detect faulty trailer lights. You must perform manual checks.
NOTE: Loss of trailer lights when towing may be the result of a fault in the trailer wiring or excessive power consumption by the lights connected to the trailer output(s). When this occurs, a red Trailer Mode icon appears on the touchscreen. Fix any issues with the wiring and/or reduce the number of lights connected to the trailer output(s), then toggle Trailer Mode off and on again.
WARNING: Use only the electrical connection designed by Tesla. Do not attempt to directly splice or attempt to connect trailer electrical wiring using any other method. Doing so can damage the vehicle electrical system and cause malfunctions.
CAUTION: Always ensure that the trailer electrical cable does not contact or drag on the ground and there is enough slack in the cable to allow for turns.
Impact on Range
Towing a trailer and carrying accessories increases vehicle weight and drag. As a result, driving range can decrease significantly. Although Trip Planner attempts to adjust estimates based on Trailer Mode, actual energy consumption may vary. Plan trip length and charging destinations accordingly.
READ NEXT:
When snow and ice accumulate on your vehicle, moving parts, such as the door handles, windows, mirrors, and wipers can freeze in place. To achieve maximum range and performance, it is helpful to wa
In severe winter conditions, ice buildup within the door handle can prevent the door handle from opening. The process for freeing a Model Y door handle is slightly different than other door handles;
SEE MORE:
NOTE: Depending on market region, vehicle configuration, options purchased, and software version, your vehicle may not be equipped with all Autopilot features described below. Customize how some of the Autopilot features operate to provide a safer and more convenient driving experience. See Abo
Model Y supports three types of keys: Phone key - You can set up your personal phone as a "phone key" that communicates with Model Y using Bluetooth. A phone key supports automatic locking and unlocking. Key card - Tesla provides a key card that communicates with Model Y using short range r